Microsoft is one of the companies in the world who is making the newest innovations, putting people first and in the center, without forgetting the current situations we're living.
Live events in Microsoft 365 bring people together to engage, share, and learn, allowing users to connect with your audience across mobile devices.
Microsoft 365 live events bring live video streaming to a new level, encouraging connection throughout the entire engagement lifecycle with attendees before, during, and after live events. You can create a live event wherever your audience, team, or community resides, using Microsoft Stream, Teams, or Yammer.
A couple of weeks ago Microsoft launched a new feature for Microsoft 365 users, allowing a place where live events via Yammer will be possible.
The whole idea for all of them is to bring easily up to 10 000 concurrent users together as an audience.
Teams deliver chat-based collaboration, calling, meetings, and live events, so you can expand the audience of your meetings. Teams live events is an extension of Teams meetings, enabling users to broadcast video and meeting content to a large online audience.
These are meant for one-to-many communications where the host of the event is leading the interactions and audience participation is primarily to view the content shared by the host.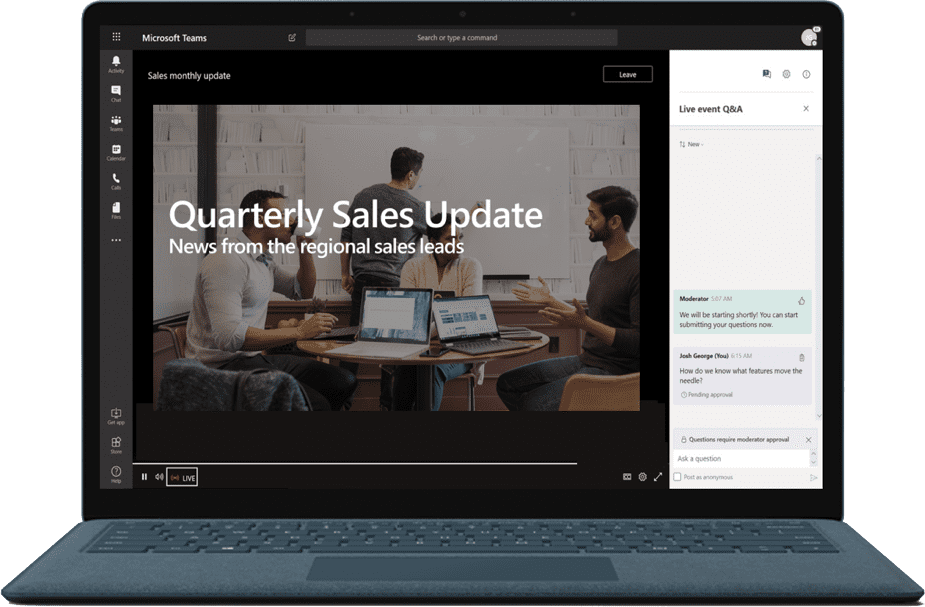 Live and on-demand video along with open discussion, question, and answer make driving culture and communication convenient and accessible.
The general availability is now in Yammer at Microsoft Ignite. Now everyone can broadcast live events without a third-party app or hardware device. The feature is shipping now for everyone.
Also, with Teams, it's possible that users in your organization can broadcast video and meeting content to large online audiences.
Events in just couple of clicks
Now the community admins can produce and broadcast a live event in just few clicks.
eams provides the ability for the organizers to create an event with the appropriate attendee permissions, designate event team members, select a production method, and invite attendees.
If the live event was created from within a Yammer group, the live event attendees will be able to use Yammer conversation for interacting with people in the event.
Attendees can access the event page in Yammer and participate in the open discussion before, during and after the event. After filling out the event details, select Microsoft Teams as the production option.
While the attendees will view the event in Yammer, producers, and presenters will use Teams to screenshare, add their webcam, and use their device's microphone. Producers can control what the attendees see on screen.
From the event page, choose ''Produce to open in Microsoft Teams and prepare the Livestream.
It's easy to manage the event in the familiar frame of Microsoft Teams using in-app options and commands along the top.
More employee engagement through video
Live events enable any community owner to create and share rich video experiences and provide solutions for leaders and communicators to connect with remote and worldwide workforces.
Production
The video input is the foundation of the live event and it can vary from a single webcam to a multi-camera professional video production. The live events in Microsoft 365 support a spectrum of production scenarios, include an event produced in Teams using a webcam or an event produced in an external app or device.
You can choose these options depending on their project requirements and budget. External encoders allow users to produce their live events directly from external hardware or software-based encoder with Stream.
This type of production is typically used in large scale events such as executive town halls – where a single stream from a media mixer is broadcasted to the audience.
Attendee experience
The attendee experience is the most important aspect of live events and it's critical that the attendees can participate in the live event without having any issues.
Office 365 provides Yammer, Teams, and Stream as three collaboration hubs, and the live attendee experience is integrated into collaboration tools that are needed while streaming the events.
Watch the video below to learn more about live events in Microsoft 365 and check out our recent blog for a breakdown of how to use and host virtual meetings and events.