Customers nowadays want a personalized shopping experience that can provide them with an enhanced user journey while also adhering to their changing preferences and market trends. To meet this demand, suppliers and sellers have to go beyond the traditional communicate-and-purchase interaction and build proactive relationships with their buyers.
75% of consumers are most likely to buy from a company that recommends products based on purchase history and forms an active connection with their customers.
Microsoft Dynamics 365 is a cloud-based solution that can integrate sales, marketing, CRM, financials, and other operations with tools you already use, such as Excel or Microsoft Outlook. It is a leading CRM that can provide advanced functionality that can boost your sales and marketing, resulting in an improved ROI.
So How Can Dynamics 365 Improve Your Sales and Marketing Functions?
Microsoft is aware that sales efficiency is an important metric for businesses that are serious about tracking their profitability. Forecasting sales can help managers allocate resources appropriately, track individual sales performances and identify any risk hindering any sales strategy.
With Microsoft Dynamics 365, various functions like Sales Forecast and a Sales Relation Manager can easily be integrated with your existing tools. Sales professionals can accurately predict their sales target and decide on strategies to help them achieve this target.
Here are some of the benefits of incorporating Dynamics 365 in your business operations that can optimize your sales strategies:
Get All Your Customer Data in One Place
It features a couple of CRM-focused applications that can either be used alone or integrated with any of the tools from the Microsoft Dynamics 365 suite, making these CRM apps flexible to use. The best thing about this software is that it can utilize data from all Microsoft products like Outlook and Office and even combine it for efficient customer analysis.
More Efficient and Organized Planning
Often, sellers can add a ton of details to sort them out later, only to find out an array of unorganized information. Making folders and separating all this information takes up a lot of time and resources. Dynamics 365 can organize your notes as you enter them, updating your CRM with new information on-the-go! It can even offer you personalized points to help you decide on your next best action.
Increase Your Networking Opportunities
A sales professional in an organization may have a limited number of networking contacts in other businesses. But to increase your influence and public relations in other niches, it is important to be aware of the wider network of your customers and employees alike and know exactly who to target.
With Microsoft Relationship Sales, sellers can engage in a more personalized engagement with customers through the integration of LinkedIn Sales Navigator and Dynamics 365 Sales. This means that sellers save time and resources and easily find and connect with their optimal customers through LinkedIn information.
Use AI to Prioritize Your Dealings
According to a Gartner study, 15% of all customer service interactions are leveraged by AI, a 400% increase from 2017! This clearly shows AI's potential to derive insights and analysis for businesses that prioritize growth and sustainability.
Dynamics 365 leverages AI technologies to identify projects that may need more attention and budget than other projects. These AI-driven insights can also offer personalized recommendations for your potential prospects and offer new leads to follow up, based on your past interactions.
You can also create a personalized dashboard to see specific information about your preferences and devise marketing strategies accordingly. This also means that marketing teams can be aware of multiple detailed customer information and design campaigns that can meet these clearly defined needs.
To Conclude
All in all, Dynamics 365 is the perfect software to streamline your sales and customer data and allow marketers to stay agile. This can be your secret to enhancing the customer experience while also generating better ROI.
Its seamless integration with other tools can help sellers build a beneficial relationship with buyers and have a lasting impact on business and networking relations.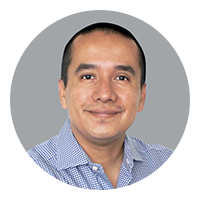 Mauricio Duran
President at Definity First. I have a big passion for leading-edge technology and I'm a serial entrepreneur with more than 20 years of experience in software development. Expert in Microsoft technologies and mission critical applications.