Change management is the driving force behind adoption. It's a discipline that applies a framework and set of tools to help people make the transition people from a current state to a future state to achieve expected benefits and organizational objectives. After the currently COVID-19 crisis that has forced us to practice social distancing, many businesses will face lack of incomes and cashflow. To increase both, it will be necessary to take some investments to be back on track again.
How developing an Adoption and Change Management practice will help you after the crisis?
Microsoft 365 is an enabler for business transformation that offers your customers best-in-class productivity and collaboration tools—leading to a whole new way of working.
For your customers to realize their desired business outcomes and return on investment, it's critical for users to not only adopt new services, but also to embrace those services and use them as part of their natural rhythm of work.
Recent studies show that customers are six times more likely to meet or exceed business objectives when effective change management is in place.
Developing Adoption and Change Management (ACM) services enables you to take advantage of a US$9.5 billion market for change management related to Microsoft technologies, growing at 7 percent annually, and to drive your company to success and lifetime value.
How to develop an efficient Adoption and Change Management practice?
To implement Office 365 in practice, you'll need to employ two complementary disciplines to make a successful transition: project management and change management.
The first one, project management, focuses on deployment planning and the implementation of the Office 365 technical component.
Change management is the human side of the transformation. This is a practice that focuses on the activities required to prepare organizations for the delivered change.
This practice also facilitates the transition from the old concept of working to the future state. And to embed the change as the new norm.
Common approach
User focus is an afterthought. Rather than engaging users in the process, an email containing a link to training, for example, is sent post-deployment.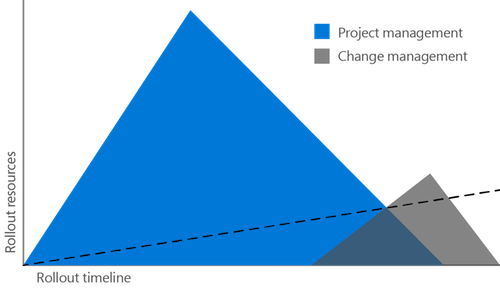 User focus is an afterthought. Rather than engaging users in the process, an email containing a link to training, for example, is sent post-deployment.
Ideal approach
User adoption is a parallel, integrated work stream that includes deployment.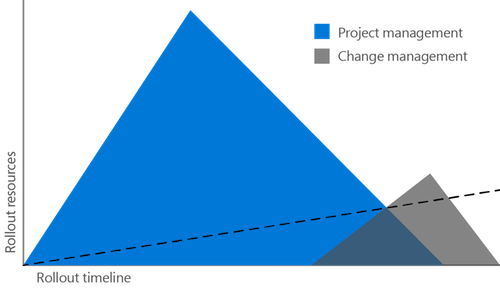 Change Management Framework
The Change Management Framework for clients, offers a simplified change-management approach, tailored for partners like you who would like to drive Office 365 in adoption.
The plans included in the framework apply to the people who lead the change and to those who'll be affected by the change and the new ways of working they need to adopt.
Key success factors
Through the Change Management Framework for clients, we'll illustrate planning and implementation of four identified key success factors -stakeholders, scenarios, awareness, and training. Then, we'll explain how these key factors are applied in the context of change management. Customer adoption is reinforced through measurement and learning.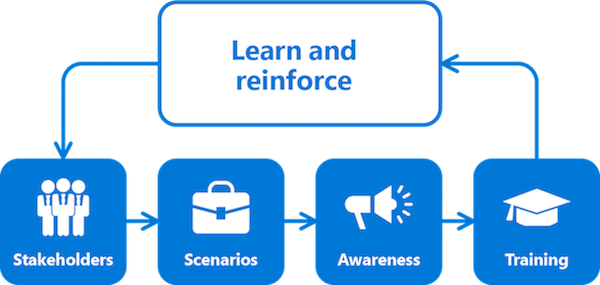 A three-phased adoption approach
This is an approach focused on customer adoption—envision, onboard, and drive value—provides the foundation to help you guide your successful Office 365 transition.
Envision (prelaunch)
Understand the context of the organization, we define the scope and objectives of the change, and identify who will drive the change forward—prioritizing groups affected and defining the new behaviors required to achieve your business outcomes. During this phase, we'll also complete the development of the change management plans and work on related detailed activities.
Onboard (launch)
With the blueprint defined in the envision phase, we have the plans and activities necessary to implement change. The Office 365 service is available, and early adopters make the transition. Definity First will start communicating, managers engage their workforces, training (contextualized to support how people can transition and adopt new ways of working) is available and delivered from us. The workforce begins to adapt to new ways of working.
Drive value (post-launch)
In this phase, feedback from the client is gathered, the business outcomes (defined during the envision phase) are measured, and any necessary corrective action is identified and implemented together. Feedback is essential to identify the corrections that may be needed in the adoption approach. Feedback also enables additional benefits, improvements in ways of working, and recognition of how future capabilities should be introduced.
You can dive into the three phases of change management that are described in the section above.
If you're ready to explore change management in even greater depth right now, you can take advantage of our Microsoft certified professionals.
Definity First enables you to customize Microsoft assets to accommodate your unique needs, take on more complex change projects, and provide access to take maximum advantage of the Microsoft tools. You can get support directly from us to help build your practice.
Contact us at hello@definityfirst.com