In today's interconnected world, cross-border operations have become a critical component of global business. Whether it involves international trade, logistics, or financial transactions, companies are increasingly pursuing ways to streamline their processes and enhance efficiency in this complex landscape. One powerful solution that has gained significant traction in recent years is automation. By leveraging advanced technologies and innovative systems, automation has revolutionized cross-border operations, offering numerous benefits to businesses of all sizes.
If you want to thrive in today's rapidly changing business landscape, automation in cross-border operations is the key. By implementing automated processes, you can streamline your ERP systems and achieve seamless integration between your US and Mexican branches. Automation eliminates manual tasks, reduces errors, and enhances overall efficiency, allowing your company to operate more effectively.
Let's delve into the advantages of automation, paving the way for a new era of efficiency and effectiveness in cross-border operations.
Here are ten key benefits of automation in cross-border operations ⬇️

Faster, data-driven decision-making
Improved collaboration between US and Mexican teams
Streamlined integration of ERP systems
Real-time insights into company performance
Swift response to changing market conditions
Elimination of repetitive and time-consuming manual tasks
Increased overall efficiency and productivity
Enhanced accuracy and compliance
Reduction of operational expenses
Scalability for seamless expansion across borders
The combination of ERP and automation is a game-changer for businesses looking to streamline operations, enhance efficiency, and drive growth. Organizations can significantly improve productivity, accuracy, and cost savings by leveraging the power of ERP systems to centralize data and processes and incorporating automation to eliminate manual tasks. Embracing ERP and automation as integral components of their business strategy, companies can embark on a transformative journey toward a more agile, responsive, and successful future.
Simplify Cross-Border ERP Integration for US-Mexico Companies 🌎

Reporting on the past, managing the present, and creating the future
As businesses expand their operations across borders, managing the complexities of multinational operations becomes a priority. For companies based in the United States with subsidiaries in Mexico, the challenge lies in effectively coordinating and integrating their business processes while complying with the unique regulations and requirements of both countries.

An Enterprise Resource Planning (ERP) system designed specifically for companies with cross-border operations can provide a comprehensive solution to streamline operations, improve communication, and ensure regulatory compliance.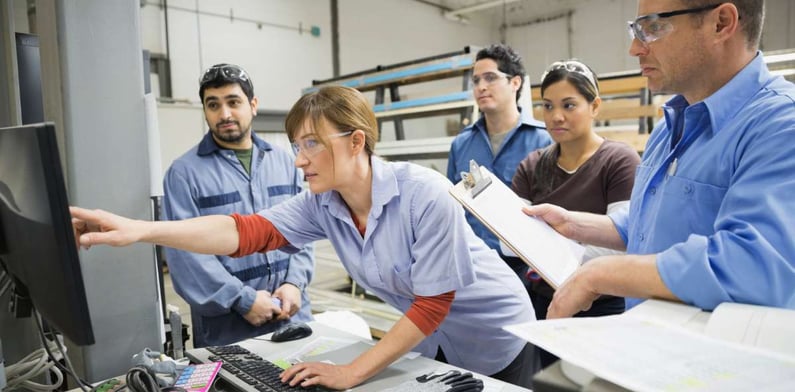 We've got a team of over 200 engineers who live and breathe Microsoft products. With more than 230 successful projects under our belt, we know our stuff! Our services encompass a wide range of solutions to cater to your specific requirements:
Dynamics 365 Finance & Operations Implementation
Migration from Legacy Microsoft ERP Systems
Integration of Microsoft ERP Systems
Ongoing Support & Upgrades
By leveraging our ERP services, companies can effectively navigate the complexities of cross-border operations and position themselves for success in the interconnected global marketplace.
Why choose Definity First?
With 19 years of expertise as a Microsoft Partner and our advantageous locations in the USA and Mexico, collaborating with us is a breeze!!
Automation increases finance employee productivity 20% on average.




-Forreste