In November 2016, Microsoft added a new tool to its already robust Office 365 suite of services – Microsoft Teams; a chat-based collaboration tool that provides global, remote, and dispersed teams with the ability to work together and share information via a common space.
You can utilize cool features like document collaboration, one-on-one chat, team chat, and more. Microsoft Teams is also fully integrated with many other Office 365 services, such as Skype, SharePoint, Exchange, and Yammer.
Core capabilities included in Microsoft Teams:
Chat – Enjoy public and private conversations with your teams. The deep integration of Skype video into the application brings you popular social features, such as adding emojis and custom memes to your discussions.
Hub – Teams offers a shared workspace for the various applications in Microsoft Office including PowerPoint, Word, Excel, Planner, OneNote, SharePoint, Delve, and Power BI.
This feature gives you and your teams the option to work natively without having to stress about toggling between applications as you try to get projects completed.
To start using Microsoft Teams, log into your Office 365 Portal with your credentials, look for Teams under the list of add-ins. Click on it to log in and configure the settings.
SherWeb makes Office 365 easy so you can focus on your business!
A Platform for Today's Teams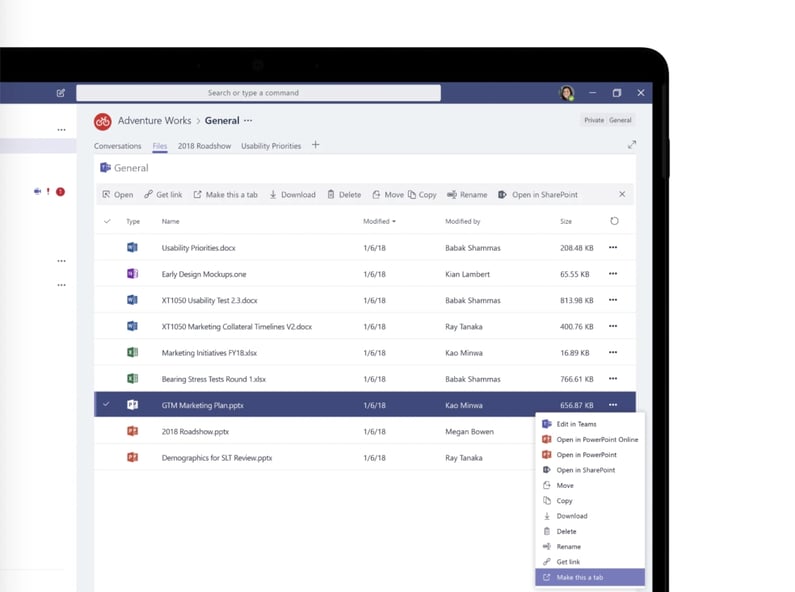 Microsoft Teams was built for today's diverse workforce. The methods that organizational teams use to communicate and collaborate have gone through immense changes over the years.
Traditional hierarchies are dying out leaving room for flatter organizational structures and thus making the rapid flow of information and communication even more important.
Teams provide you with an open, digital environment that makes work-integrated, visible, and accessible across the board; everyone around you will always be connected with what matters the most: get work done!
At the core of this and every other service delivered through Office 365 are the 3 famous G's:
Governance – Features like E-Discovery are added to ensure the applications are secure and meet various compliance requirements.
Graphs – Everything you do inside the Office 365 Suite is captured as a signal for content discovery across applications.
Group - Collaborate and have access to the products in the Office 365 Suite.
Centralized governance and management with Microsoft Teams Collaboration Tool
Teams is already a part of the Microsoft Group, thus making all your data and communications accessible through Microsoft Graph and Office 365's centralized governance and management console.
This is where Microsoft Teams make integrating solutions easier for you – it belongs to a robust platform. You're not signing up for the average stand-alone solution.
If you're interested in Microsoft Teams, contact us at hello@definityfirst.com