Remote work is now part of the the new normal concept as a result from COVID-19. Consequently, many businesses are adopting this policy that's actually efficient and effective.
Social distancing is also the concept that's pushing broader the adoption of the digital modern workplace with a set of tech tools and platforms that allow work and collaboration to be done.
There is no reason the COVID-19 outbreak should not be a strong catalyst for change in the working world. However, a good company culture should have all of these provisions for employee wellbeing in place already and treat employees with the respect they need to work remotely with all they need.
Working remotely while practicing social distancing with a set of powerful tools, employees may find there is more opportunity to finally focus on those tasks that have been waiting in the background.
According to Forbes, by eliminating endless meetings and time-intensive tasks, people will inevitably start working on projects that improve their working lives and getting rid of the most repetitive and vital tasks.
6 reasons why remote work is "The New Normal"
1. Remote Work doesn't have to be defined by location
The concept of the digital revolution evolved from mobile to portable, allowing employees to connect to an "office" from anywhere, anytime and through their favorite mobile device.
2. A hybrid workplace
Work isn't just mobile or portable Likewise, it's becoming more flexible and of course, digital. Currently, all these concepts have become more popular, as COVID-19 pushed us to isolate and start working remotely.
Consequently, what the pandemic situation we're living has revealed is that the digital workplace is potentially where most work is happening in a productive way.
3. It's a healthier way of working
As we start living "The New Normal" approach, special protocols will need to be applied around spaces and offices of course. As a result, bringing large numbers of people together in one space is no longer an option for a healthy workforce.
When you start to see the health-security issues that come from bringing a large number of people into one specific location, you'll see that working from home is a healthier alternative.
4. Remote working is eco-friendly
If we were able to work remotely more often, the central benefit will be over climate change and the overall environment health. Thus, we'll potentially be helping to reduce all forms of pollution when we move on the car.
5. People want a better work-life balance
Your bank account will not only reflect the benefits of working remotely, you'll notice an impact over your productivity and overall mental health. For example, you'll not be spending on fuel anymore, and you'll avoid spending on coffee or meals at local places.
Additionally, you'll be able to find the perfect balance between work and your personal life.
6. Remote work supports the local economy
The more people who are based locally and spend their money locally can earn money in a global economy. As a result, all this will reflect a positive impact on regional economics.
It's time to embrace remote work!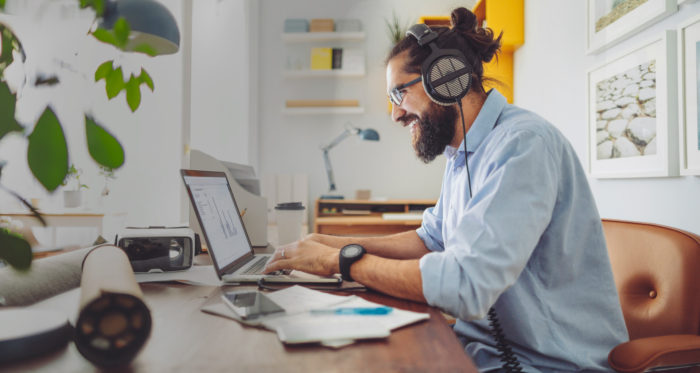 We believe in the full potential and benefits of remote work. Even if teams are now separated due to COVID-19, virtual platforms and tools are making collaboration to happen successfully and efficiently.
COVID-19 might not have very many positive effects across the globe, but as we are already in this midst of one of the most disruptive events in our generation, we might as well find the silver lining of being pushed to practice social distancing.
By adopting The New Normal and an effective remote working strategy, companies might actually find their employees more engaged and less stressed by work.
Most importantly, this could be the wakeup call that many companies and organizations need to change their working policies andd treat their employees with the respect, flexibility and independence that remote working demands.
Remote work Is not impossible. We're sure that employees don't need to be tied to a specific location to collaborate. For this reason, we have some of our team members located in different locations, in a place where they're delivering happier and efficiently.
It's all about being productive!
Drop us a line at hello@definityfirst.com if you're interested on finding a digital solution that sparks the remote working benefits in your company.